Etiquette of the Glass!
VIRTUAL WINE TASTING CLASS – 3 WINES
Discover the secrets of wine tasting and learn how to properly drink and taste wine with an Italian wine instructor!
Are you trying to select a wine for yourself to enjoy, or are you sharing with friends?
Wines can serve different purposes, and different occasions can influence how you choose a wine.
Stop being confused over which wine to pair with which food because of the conflicting advice that is out there. During the wine tasting class you will find an answer to all of your doubts!
During the class you will have fun with your friends while learning about Italian wines! Sit on your sofa and enjoy our complete wine tasting kit, including 3 different red and white Tuscan wines.
You will have the opportunity to learn everything about our Italian wines and eno-gastronomic culture. The virtual class is typically 60-90 minutes long, and is available by booking only and can be set up together with you according to your availability; participants will receive invitations through email.
What you will learn:
✓ Go step-by-step through the process of tasting: sight, smell and taste
✓ The right way to pour a glass of wine and how to hold your glass like a "pro"
✓ Recognize the colors of wine and identify aromas through your nose
✓ Taste both the structure (sour, bitter, sweet) and flavors derived from olfaction
✓  Learn about terroir, the geographical aspects, the climate of the area and the type of soil
✓ The perfect drinking temperature for different wines
✓  Pair specific wines with food
About the online class:
✓  Cooking class is fully interactive.
✓  Our wine instructor accompanies you throughout the entire process.
✓  Ask as many questions as you want!
Duration: 1.5 Hours
You will receive three bottles of our Tuscan wines, that we will taste alongside with the dishes of the menu. Our expert wine instructor will present you the best wine tasting techniques: you will learn the wine production process, the etiquette and the correct posture of the glass, all the organoleptic, olfactory and sensorial characteristics.
The wines we will taste:
Vernaccia di San Gimignano DOCG
Vernaccia di San Gimignano is a grape variety which was first cultivated on the hills of San Gimignano. It was the first grape variety to be awarded, in 1966, the Denomination of Controlled Origin and in 1993, the D.O.C.G. Straw yellow color tending to golden with age. Fine, penetrating, fresh, fruity bouquet and a delicate, fruity flavour with a characteristic bitterish aftertaste.
Morellino di Scansano DOCG
This wine was born in the territory of the Tuscan Maremma, in the vineyards and in the cellar of Scansano. Intense ruby ​​red with garnet reflections. The nose reveals beautiful notes of small red fruits, spices and a light note of goudron, to embellish the olfactory profile. On the palate it is full and balanced, with mature and well-developed tannins, of great persistence.
Super Tuscan "Cavaliere" IGT Toscana
"Cavaliere" is an aristocrat wine with elegant and personal flavor. With a deep ruby red tending to garnet with age it's a blend of sangiovese and merlot. Its bouquet is round, complete and elegant. Has a dry, full and smooth flavor.
Tenuta Torciano is a secret jewel in the heart of Tuscany, near San Gimignano, in a central position between Siena and Florence. The family history embraces 13 generations of winemakers who have been able to give life to high quality wines.
Here you will discover the warmth of a Tuscan family and the simplicity of good living, which have been handed down from father to son for 300 years. Walking in the open air, enjoying the countryside and the fruits of nature, listening to the peaceful flow of water: these are the most precious moments to live and share with loved ones.
Tenuta Torciano, with hectares and hectares of vineyards, a truffle ground with more than 700 trees and a green garden and vegetable garden full of vegetables, is an oasis of peace that favors the contact with nature.
Today the historic production of the estate includes the most famous Tuscan wine denominations: Vernaccia in San Gimignano, Sangiovese in Chianti area, Brunello in Montalcino, Bolgheri in Livorno, Morellino, Malbec and Petit Verdot in Poggio Moreto, and we also have some olive groves, dedicated to DOP and Chianti Classico oil.
Class hosted on Zoom. Tax included.
1.5 hours Wine Tasting school with our wine instructor
1 bottle of Vernaccia di San Gimignano DOCG (Tuscan white wine)
1 bottle of Super Tuscan "Cavaliere" IGT Toscana (Tuscan red wine)
1 bottle of Morellino di Scansano DOCG (Tuscan red wine)
Wine Included in the Tasting: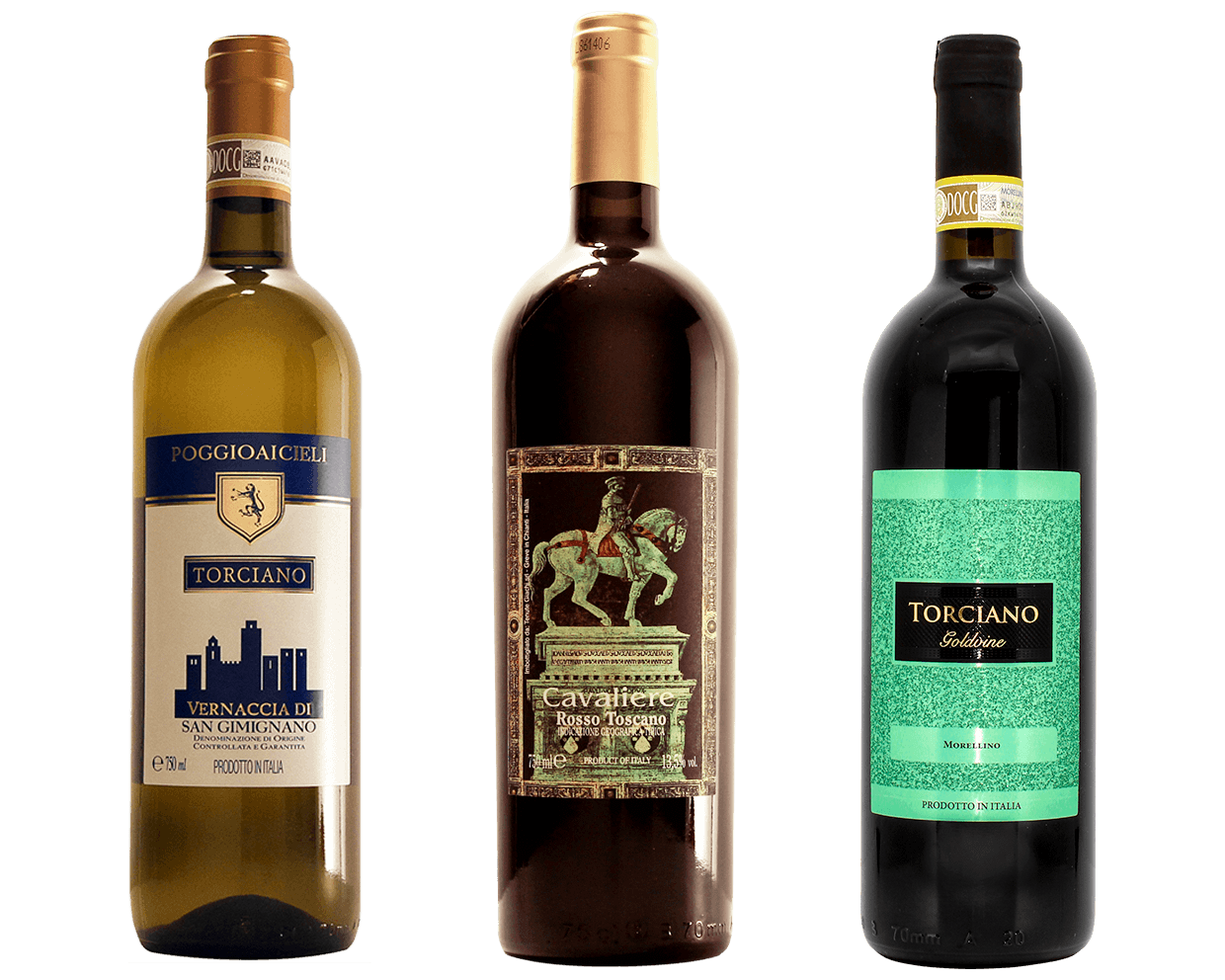 Vernaccia di San Gimignano D.O.C.G.
Morellino di Scansano D.O.C.G.
Super Tuscan "Cavaliere" IGT Toscana
Contact Us & Organize a Virtual Experience!